Television ratings for the final round of The Masters tied the lowest mark in 34 years.
Final round coverage of The Masters earned a 6.8 final rating and just under 11.0 million viewers on CBS last Sunday, down 28% in ratings and 25% in viewership from last year (9.4, 14.7M) and down 15% and 19%, respectively, from 2012 (8.0, 13.5M).
This year's final round tied 1993 as the lowest rated since 1980 (6.7) and the fourth-lowest rated since Nielsen began measuring The Masters in 1957. Only the 1980, 1961 (6.1) and 1957 (3.0) telecasts earned lower numbers.
Last Saturday's third round action drew a 3.9 and 5.9 million viewers, down 33% in ratings and 31% in viewership from last year (5.8, 8.5M), and down 22% and 20%, respectively, from 2012 (5.0, 7.3M).
The 3.9 rating is the lowest for Saturday coverage since 1957 (1.2).
Overall, CBS had its lowest average rating for The Masters since 1957, when the network averaged a 3.4 rating for three days of coverage. The rough outing for CBS came on the heels of double-digit declines for first and second round coverage on ESPN.
Average Rating For The Masters on CBS, 1957-Present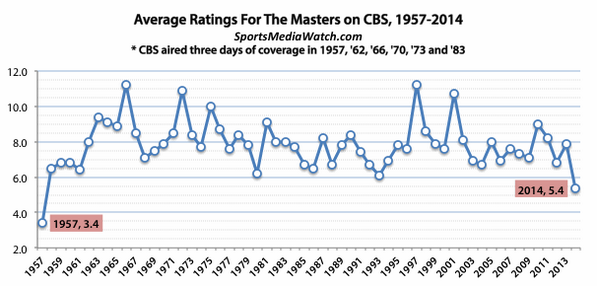 (This year's numbers from Sports Business Daily; ratings dating back to 1957 from CBS Press Express)